WCA BuildWorks Support

To help you get started in WCA BuildWorks we've developed three short tutorial videos which you can find below, as well as some Tips and Tricks that will help you navigate the system.
We also have a PDF guide to help you through the Planroom which you can find here.
Of course, never hesitate to reach out to our friendly Construction Information staff at cis@winnipegconstruction.ca.
Having trouble seeing projects? Many common problems are solved by clearing your cache. Learn how to clear your cache in Google Chrome here or in Firefox here.
Tips and Tricks
Project Name: Projects in Blue Font have not been viewed. Projects in Purple Font have been viewed. There's also quick links to "View Addenda".
Search Projects: Is located on the left corner of the Bidding Projects page. To search for a WCA project enter it into the Project Name and enter the last 3 numbers and Run Search.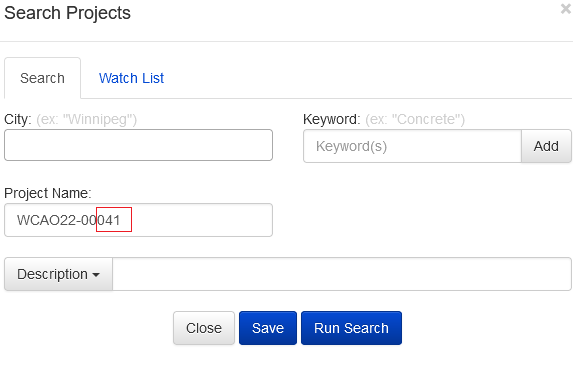 Show Contact Watch List: This option will display the companies the user is watching. It allows the user to view Projects they are listed on and search for companies to add to their Watch List. Companies highlighted in yellow on the Project will be companies you're watching.
Project Preview: This option will display the basic detail and description of the Project, as well as quick links to rate your interest (Yes, No, Maybe). There is also the option to add the Project to your Calendar, Save/Track the Project and viewing the Project location.
Video #1 – Quick Start: Project Grid
Video #2 – Quick Start: Project Details
Video #3 – Quick Start: Project Documents